Hot Seat #130: 3mo with concern for seizure
Posted on: April 24, 2019, by : Michael Hrdy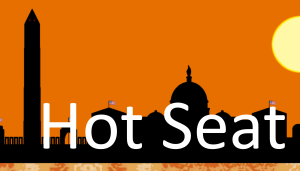 Mike Hrdy, MD with Mike Quinn, MD, Children's National Medical Center
HPI: 3mo ex full term male presents with concern for seizure. While resting on a playmat, his father noted that the patient was lying stiff and staring off at the ceiling. The patient did not seem to be responding and had lip movements that the parents had never seen before. There were also some breathing changes but no color change. Parents estimate the period of stiffening lasted roughly 8 minutes. Afterwards, he cried then fell asleep and was difficult to arouse for roughly one hour. Prior to coming to the ER, the patient returned to his baseline mental status. No recent illnesses, taking breastmilk with normal urine and stool output.
Review of Systems:
Constitutional symptoms: denies fever, taking PO well, no change in urine output
Skin symptoms: denies rash.
Eye symptoms: denies discharge, denies redness.
ENMT symptoms: denies nasal congestion.
Respiratory symptoms: denies cough.
Gastrointestinal symptoms: no vomiting, no diarrhea, no recent formula change.
Genitourinary symptoms: no hematuria.
Neurologic symptoms: possible seizure, altered mental status.
Past Medical History: Birth history: born at 37.5 weeks via c-section, +NICU stay with intubation for meconium aspiration syndrome. 2 month vaccines given
Family History: No family history of seizure disorder or cardiac disease, no early death. Mother HSV+, on antivirals peri-delivery, no active lesions at time of birth
Social History: Lives at home with parents. No other children, no daycare, no other caregivers
Physical Exam:
T36.7, P120, RR 32, BP 88/52, spO2 100% on RA
General: Alert, appropriate for age, interacting.
Skin: Warm, dry, pink. No rash, bruising or abrasions
Head: Normocephalic, atraumatic. Anterior fontanelle soft and flat.
Neck: Supple. Trachea midline.
Eye: Pupils are equal, round and reactive to light. Extraocular movements are intact.
Ears, nose, mouth and throat: Oral mucosa moist. No pharyngeal erythema or exudate.
Cardiovascular: Regular rate and rhythm. Normal peripheral perfusion. Extremity pulses equal.
Respiratory: Lungs are clear to auscultation. Respirations are non-labored. Breath sounds are equal. Symmetrical chest wall expansion.
Gastrointestinal: Soft. Nontender. Non distended.
Musculoskeletal: Moves all extremities
Neurologic: Awake, alert, normal tone, moving all four extremities, developmentally normal
EKG shows sinus tachycardia, otherwise reassuring.
Initial labwork comes back:
CBC: 16.43>11/31.6<534, 42% granulocytes, 45% lymphocytes, 10% monos
BMP: 136/5.0/102/22/10/0.27<103, Calcium: 9.9
The patient tolerated several feedings without difficulty and remained at their normal mental status per parents. At this time the parents are frustrated and asking you what the next steps are.
Repeat vital signs are T37, P117, RR32, BP 99/48, 99% on RA
Neurology was consulted from the ED. The on-call fellow recommended a head CT to rule out intracranial hemorrhage followed by lumbar puncture to evaluate for meningitis or encephalitis. Once these studies were completed, assuming a reassuring CT, they would accept to their service.
The information in these cases has been changed to protect patient identity and confidentiality. The images are only provided for educational purposes and members agree not to download them, share them, or otherwise use them for any other purpose.

Latest posts by Michael Hrdy
(see all)